Look at this link for instructions on how to upload a video to YouTube.
You don't need a special video camera to film your videos, a webcam on your computer or laptop is fine.

https://support.google.com/youtube/answer/57407?hl=en
You need to make the video available to be viewed by your assessor. There are 3 settings. you must either make the video Public or Unlisted for your assessor to view. They cannot view private videos.
Public – Anyone can search for and view your video.
Unlisted – Hidden from YouTube and Google search, but viewable by anyone with the link.
Private – Only people you choose can view, which you can add by name, Google+ circles or by email.
To Share a YouTube Video
In order to share a video, ensure first that the video is either "Public" or "Unlisted", (Unlisted is usually better so no one can see it unless you give them the link). To do this just go to your Studio and set the Visibility: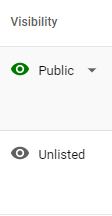 Once you've done that, either open up the video and grab the URL or in your Studio click on the three dots next to your video and then click on "Get shareable link"